You are currently browsing the category archive for the 'Uncategorized' category.
This is awesome! Wasn't sure about the blog at first, but these entries are incredible! Of course, as a history buff I'm slightly biased.
14 Weeks Worth of Socks
Click here for diary entry for Wednesday August 20th 1941 – Monday August 25th 1941
Tuesday August 26th
143rd Day
Went to range and shot with Bren & Tommy.  Swim.  Parade in afternoon.  At night Jerry bombed hell out of aerodrome.  Bombs getting too close to us got in slit trenches.  Could see him dropping his flares lighting the place up like day.  Ammunitions dump caught fire.  As each bomb exploded shook our hut.  Night fighters and ack-ack (anti-aircraft) fire soon chased him away.
Wednesday August 27th
144th Day
Dug slit trenches in morning.  Swim in afternoon.  Early to bed.  Boys would not do C.B(?) as O.C (Officer Commanding) ordered.
Thursday August 28th
145th Day
Company for duty – was POW guard.  Took Libyan prisoners out to fill sandbags. Pleasant chaps better than the wogs. Returned to camp and 60 had to go before O.C.  All remanded.   Quiet night.
Friday…
View original post 108 more words
Our veterans deserve better than this.
CBS Dallas / Fort Worth
WASHINGTON (AP) — Citing "significant and chronic system failures" in the nation's health system for veterans, a review ordered by President Barack Obama portrays the Department of Veterans Affairs as a struggling agency battling a corrosive culture of distrust, lacking in resources and ill-prepared to deal with an influx of new and older veterans with a range of medical and mental health care needs.
The scathing report by deputy White House chief of staff Rob Nabors says the Veterans Health Administration, the VA sub agency that provides health care to about 8.8 million veterans a year, has systematically ignored warnings about its deficiencies and must be fundamentally restructured.
Obama ordered the review last month in a response to widespread reports of long delays for treatment and medical appointments and of veterans dying while on waiting lists. But Nabors' report goes far beyond the lengthy waits and manipulated schedules raised by…
View original post 720 more words
PTSD is real. It's a terrible thing for people to face. It shouldn't be taken lightly.
RON THIBODEAUX
Traumatized by Iraq and the deaths of two comrades, local Marine Travis Twiggs couldn't overcome his inner demons
PART 1: MARINE CARRIED WAR HOME INSIDE OF HIM
The all-points bulletin that crackled from the radios of law enforcement officers across southern Arizona was explicit in its urgency.
Be on the lookout, authorities were warned, for a white, late-model Dodge hatchback bearing Arizona license 606RFC, believed occupied by two brothers who had carjacked it from the Grand Canyon two days earlier.
The Border Patrol had tried to detain the vehicle at a checkpoint near Yuma, but the driver sped away, and officers were now in pursuit. Both men were said to have violent criminal histories, and anyone coming in contact with them should consider the suspects armed and dangerous, the bulletin warned.
Thus informed, anxious deputies and police officers from communities along Interstate 8 joined in the chase, speeding brothers Travis and Will…
View original post 4,185 more words
Something to consider when writing about difficult subjects.
I need to read this book when I get the chance!
James Reads Books
These two reviews first ran on my old blog Ready When You Are, C.B.  
The Astonishing Life of Octavian Nothing by M.T. Anderson is a
s interesting for its history as it is for its story. First the story. Octavian, a slave in colonial Boston, is raised by the philosophers at the Novanglian College of Lucidity. He is given the best of everything, professorial tutors, musical training, the fancy clothing and excellent food. He is bright, curious, a gifted student who believes his future holds the world open for him. He sees himself as a young prince, and his mother as a queen in exile from her homeland.
What he does not know, is that his teachers are raising him as part of a scientific study to determine if Africans have the same capabilities Europeans have. At first, his teachers are sympathetic; they support him, have genuine feelings for…
View original post 1,374 more words
Never considered this before
Higher Learning
Matthew Hogg is pretty much your average 34-year-old British guy. Except for one thing: eating bread or pasta has the same effect on him that pints of lager and ale have on his friends.
Hogg suffers from a rare condition known as auto-brewery syndrome. The condition causes the body to build up high levels of yeast in the intestines. As a result, carbohydrates are rapidly fermented into ethanol (pure alcohol) during digestion.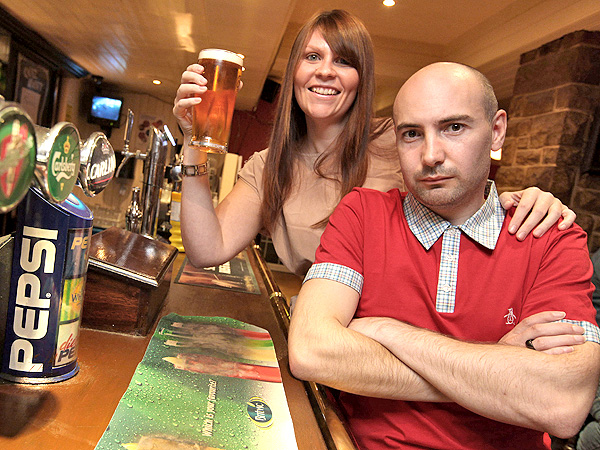 Matthew Hogg with his girlfriend (Photo: David Charlton/Caters News)
The result is that sufferers are constantly feeling varying levels of intoxication throughout the day, depending on what they eat (it's almost impossible to completely avoid sugars and carbs all the time).
Though it may sound like a pretty sweet deal to people who enjoy getting drunk, Hogg says the reality is much more sobering (no pun intended). In a recent interview, Hogg told Vice News,
"It's had a huge and devastating effect on my life."
View original post 242 more words
Here's side of the civil war I'd never considered. There's some great pictures.
Irish in the American Civil War
I have come across many extraordinary stories during my time researching the Irish in the American Civil War. None surpass that of Sergeant Peter Donnelly of Company C, 1st Vermont Heavy Artillery. Almost uniquely, the historical record has combined to provide us with details of this ordinary Irish-American's death from the perspectives of both friend and foe. I am extremely grateful to Peter Patten for initially alerting me to this remarkable account.* 
A soldier of the 11th Vermont (1st Vermont Heavy Artillery) poses with soldiers from three other regiments (Library of Congress)
John Donnelly and his wife Rose emigrated to the United States from the parish of Drumlane, Co. Cavan sometime before the mid-1840s. By the time of the 1850 Census they were living in Castleton, Rutland County, Vermont. John was then a 43-years-old and working as a laborer, his wife Rose was 36. 80-year-old Molly Hoy Donnelly (probably John's…
View original post 1,922 more words
Here's an interesting idea for a router.
2nd Air Division Memorial Library
Jeff Foss and his wife Laura Freed are an American couple who came to the Library looking to find out more about their relative, 2nd Lt. Warren Freed, who served as a pilot in the 453rd. They are told he flew three missions aboard B-24 "Strictly Business", before having to crash it into the North Sea and perishing. Freed's name is featured in our honor roll.
During their visit, the couple visited Old Buckenham airfield where Freed was based. Of their visit they said, "[they] learned a lot about this particular aspect of WWII, and also about the people of Norfolk and the special bond between our countries. All of the tales the good-natured Norfolk locals during that period of wartime were reflected in our own meetings with people there during our visit."
Jeff was kind enough to share his flickr album of their journey, including our museum and library, which can be found here:
Jeff also…
View original post 71 more words
UPROXX
Yesterday, we were treated to the first poster for the World War II tank drama Fury, written and directed by David Ayer and starring Brad Pitt, and today we get to feast our eyes on the first trailer. To say that this movie looks powerful is an understatement. Pitt's hardened Army sergeant Wardaddy looks as if he'll be one of the actor's greatest characters to date, as he leads his tank team and their "home," a giant killing machine nicknamed Fury, behind enemy lines in Germany to help put an end to the senseless killing in the war. Of course, as we see, the only way to end the killing is with even more killing.
View original post 98 more words